Sergei Chemezov's $140 million Meridian A has brought Spain, superyacht, and seizures back together in a sentence. A Spanish court has released the order to impound and seize the 279 feet yacht formerly called Valerie. On Wednesday, a Barcelona judge passed down the order to take control of the luxury vessel linked to Rostec State Corp's chief executive officer, Sergey Chemezov. According to Marine Traffic, the yacht has been in Barcelona since 9 February and was under repair at Barcelona's shipyard MB92.

The shipyard's complaint about unpaid maintenance fees led to the court order and subsequent seizure of the elegant pleasure craft. Only time will tell if superyacht Meridian A will also go down the path of sanctioned steel billionaire Dmitry Pumpyansky's beautiful blue boat, $75 million Axioma, sold for $37.5 million at auction in Gibraltar.
About Meridian A superyacht-
Motoryacht Valeria made a splash in 2011 as one of the four biggest yachts launched that year. Espen Øino International granted her a robust exterior, while the elegant interior designer is credited to Reymond Langton International. Valerie is massive, 279 feet long, with 2,755 gross tonnes distributed among six decks, and the yacht has always been used privately.
Going by what the expert shared, the boat is certainly a breathtaking beauty of the high seas. Espen Øino told Boat International, "Valerie is still considered by many one of the most beautiful boats we have done with Lürssen." If this Lurssen boat's interiors are a lesson in luxury, the exteriors deserve a chapter of their own.
The six-decker ship makes being out and under the sun the most fun onboard the Meridian A with a bar, a six-meter pool, and a Jacuzzi. The superyacht has five such outstanding exterior spaces. The design team also helped make sun-gazing an unmatched experience owing to the attention paid to detail. Valeria yacht was a trendsetter that used glass for railings, "You have a really low sill and all the railings are glass," says Dietrich Kirchner, the project manager that handled the construction at Lürssen.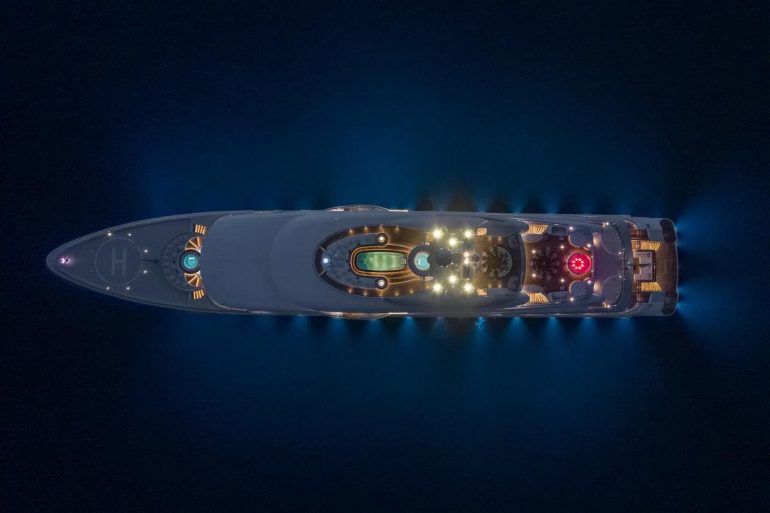 Guests cannot ignore a lift clad in leather, a dining room housing a fountain that lights up at night, and a well-equipped gym nearby. Wellness and self-care are paramount, as Meridian A has separate rooms for beauty treatments and massages. There are steam rooms, Hamman, looking striking with mosaics in neutral hues.
In other parts of the ship, one notices ample use of stones like crema Marfil, travertine, antique brown granite, and a rare white onyx. The main deck is where guests revel in the formal dining room or unwind in the lounge.
The upper deck is dedicated to accommodations. Highlighting the main deck is a Schimmel Pegasus Piano designed by Luigi Colani, complete with a discernible ergonomic curved keyboard, hydraulically operated top, and crystalline sound.
The owner's suite includes a saloon that doubles up as a lounge. The master bedroom features a private deck with a Jacuzzi and breakfast corner. The extra cabins are for the children and nannies. A private staircase leads the owners from their palatial abode to a second primary suite on the main deck. In all, Valerie accommodates 17 guests in nine lavish cabins who are taken care of by a crew of 27.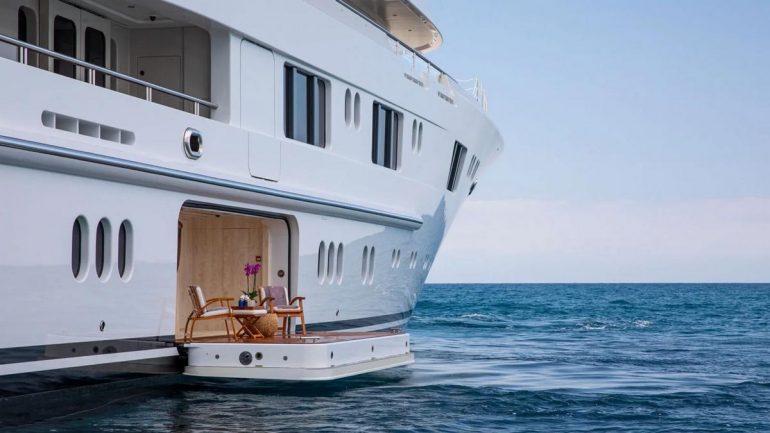 The $140 million Lurssen vessel flaunts a top speed of 17 knots and cruises comfortably at 12 knots. Regarding toys and tenders, the opulent superyacht doesn't disappoint. Two custom-built 10-meter Royal Denship tenders, one a limo, the other a landing craft, make for an impressive collection to explore the Mediterranean shores.
Motoryacht Valerie was the ultimate love boat for J.Lo, and beau Ben Affleck-
Bennifer celebrated J.Lo's 52nd birthday in style. The gorgeous couple kicked off their PDA-filled vacation in Saint-Tropez aboard the equally exceptional $130 million yacht Valerie. Not only did Affleck fly his lady love onto the French Riviera on a luxury private jet, but he also managed to charter the yacht Valerie which had never been offered for charter.
About Sergey Chemezov-
The 70-year-old CEO of Rostec Corporation is a former KGB agent and high-ranking general. With a doctorate in economics, Chemezov is a professor and full member of the Military Academy. He befriended Putin in the 1980s and benefitted heavily from this old friendship. The high-ranking general in the KGB eventually became a prominent businessman and the awardee of titles "For Merit to the Fatherland" in 2017 and "Hero of Russia." Chemezov once said, "There is a nice big house where we live with our family. There is a large apartment. … I am not going to build palaces, and there is no such need. What I have is quite enough."
The reality is not so simple, and it is believed Chemezov and his family maintained an extensive network of offshore wealth, including a $600 million superyacht, several lavish residences, and commercial spaces in addition to the $140 million Valerie yacht. As per Pandora Papers, Chemezov's family and relatives managed to amass over $400 million of listed assets during his rise to power. His worth should undoubtedly be more than what his friends made. In April 2014, he was barred by the Obama administration from entering the United States due to the Annexation of Crimea by the Russian Federation. The European Union sanctioned Chemezov over the Russia-Ukraine conflict.
Read more at Luxury Lauches
Source link